Magical Lighting Services
Most people agree that lighting can transform an event into something great, something that will stick in the guest's minds for years to come. We at Magical Lighting are acutely aware that light and color can directly affect mood and emotion. Whether you desire an intimate and romantic wedding, a full tilt celebration, or an atmosphere that lends to sales or donations, lighting is a key aspect of making your magical event come true. This is why choosing the right lighting company is so important.
At Magical Lighting we posses technical knowledge of electrical distribution and lighting design. We also have a deep understanding of the psychology of lighting. The following services are some popularly used lighting effects. We can do much more than what is listed below and pride our ability to cater to a multitude of unique lighting requests. Contact us for a personal consultation.
Uplighting
Uplights are a staple in event lighting, enhancing the natural beauty of a venue or transforming a plan venue into something Magical. They are commonly used on walls, drape and trees, but are a great way to add color to almost anything. We match the color to your theme colors.
Downlighting
Downlights are simply a light shining down on something. We use these for Head tables, gift tables, Bars, Sign-in tables, Buffet tables, signs, and anything that needs some extra "pop". They can also be any color.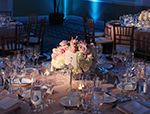 Pinspoting
A pinspot is a very bright spotlight with a small radius (or spread) of light. They are perfect for wedding cakes and table centerpieces, as well as anything small that would be helped with a really bright "pop".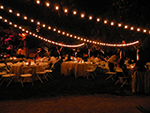 Stringlights
Also known as Bistro Lights, Market Lights, Work Lights, etc., they are clear globes a little bigger then a golf ball. They are ideal for outdoor venues and tents, but also look great indoors. They spread a romantic, warm light over the event.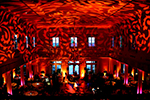 Pattern Gobo
A gobo is a small disk that, when placed in a gobo projector, creates an image (or pattern) on any surface. There are over 2000 stock pattern gobos to choose from. They are ideal for dance floors, walls, ceilings, rocks, trees, etc. (Gobo is short for Goes Before Optics, we have used them in movies and theater since the 40's)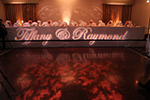 Custom Gobo
All gobos used to be custom, made with jeweler's saws and files. Now they are produced with laser cutters and glass prints, making it affordable to get a wedding monogram or company name shined on a surface. We have over 250 templates of monogram gobos to choose from, both metal and gray scale glass. You can also send us your own graphics that we can have made, even in full color.